Our long lasting, residential systems create the best air possible for your home. Whether you need a new air conditioner, heat pump or furnace, a Trane system can help you take control of your home's indoor temperature.
AIR HANDLERS 
An air handling unit circulates both cool and warm air evenly in your home. The efficient variable speed motors deliver steady temperatures and control indoor humidity levels to keep you comfortable during every season.
Built to Withstand any Environment
The all-aluminum coil in our air handlers is more reliable than conventional copper coils. What does this mean for you? Our air handlers have a longer system life and less chance of refrigerant leaking into the atmosphere. All Trane electrical components are extensively tested and required to preform at reliability levels far exceeding standard longevity levels. Plus, the modular design enhances flexibility, allowing installation in tight spaces - without the need for expensive remodeling to your home.
Hyperion™ Series
The extraordinary Trane Hyperion™ air handler represents a substantial advance in air handling technology. Using 14 industry-exclusive patents, the Hyperion offers significant advantages over other air handlers, advantages like refrigerator-styled insulation made without exposed fibrous material, which virtually eliminates sweating and condensation as well as helping create a safer environment for your home.
GAS FURNACES
Trane furnaces are innovatively designed with efficiency and precise temperature control in mind. With one-stage, two-stage and modulating furnaces - there's a style for every home. Trane furnaces are reliable, quiet and guaranteed to make those cold winter months a little more enjoyable.
XV95 
The XV95 delivers one of the highest efficiencies in the industry, providing superior performance for the ultimate comfort experience. Rated with up to 97% AFUE, select models are Energy Star qualified.
HEAT PUMPS
Heat pumps offer an electric heating and cooling solution for homes in mild climates and homes where natural gas heating isn't an option. At the heart of every Trane heat pump, is a Climatuff® compressor that automatically adjusts itself to maintain consistent speeds and avoid temperature swings.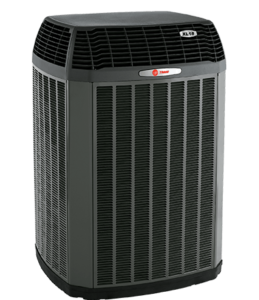 XL16i
Hardworking, efficient heating and cooling comfort in every room of your home with the XL16i heat pump from Trane. 
ENERGY SAVINGS
Save an estimated 54% in energy costs with this unit.
XR14
Get affordable heating and cooling with the durability you expect from Trane. The XR14 electric heat pump offers up to a 14 SEER rating on a matched air handler or furnace system.
AIR CONDITIONERS
Trane brings variable speed technology to the next level, with systems that intuitively adjust to changing heating and cooling needs. Our air conditioners work only as hard as they have to - at more efficient, quieter speeds.
XR16
Working as part of your home HVAC system, the XR16 home air conditioning unit comes with the reliability you've come to expect from Trane and the energy efficiency you deserve. This central air system's design ensures that your family has superior comfort year round.
ENERGY SAVINGS
Save an estimated 54% in energy costs with this unit.
XR13
The XR13 air conditioner system comes with the reliability you expect from Trane and the comfort your home deserves. Built with you in mind, this home air conditioning system's design helps deliver cool air to every room in your house, allowing you to relax comfortably.
ENERGY SAVINGS
Save an estimated 42% in energy costs with this unit.