About Formula Fabrication
Formula Fabrication installs and services ductless heat pumps, high efficiency heat pumps, gas and electric furnaces and air conditioning systems. Other services include custom sheet metal fabrication, ventilation, precision tune ups, equipment service and repairs. Our broad customer base includes residential and commercial clients and Contractor new builds, additions and remodels.
Service your family can trust!
Owners, Frank and Karee Sweedman, are the driving force behind the continued success of their Heating & Cooling Company. Specializing in the installation of energy efficient products that save consumers up to 75% of the cost to heat and cool their homes, Formula Fabrication offers the highest level of customer service and installation practices on each and every job. Upgrading your outdated heating & cooling system is more affordable than ever.
Frank and Karee built their business with honesty and integrity, treating others the way they want to be treated. Understanding the importance of each customer in a small community is the foundation for the Sweedman's success. As a direct result, the NW Ductless Heat Pump Project awarded Formula Fabrication, Montana's "Contractor of the Year" in 2009, 2010, 2011, 2012, 2013, and 2014 based upon the quality and quantity of installations and their commitment to outstanding customer service.
"Formula Fabrication truly is a leader in providing exemplary service to their customers through high-quality installations, as they deliver comfort and value to homeowners by introducing them to this efficient technology," said Ty Stober, initiative manager for NEEA. "The professionals at Formula Fabrication are a model for helping transform the heating and cooling system marketplace."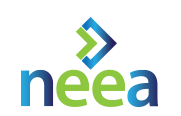 Northwest Energy Efficiency Alliance
VISIT OUR SHOWROOM!
Located at 31936 US Hwy 2 in Libby, Montana, Formula Fabrication invites you to visit our showroom and gain knowledge and hands-on experience of the latest HVAC equipment to hit the market.
Various makes and models are on display to help customers understand how each system works and the advantages and benefits of each brand. Any questions can be answered by one of Formula Fabrication's professionally trained staff.